Welcome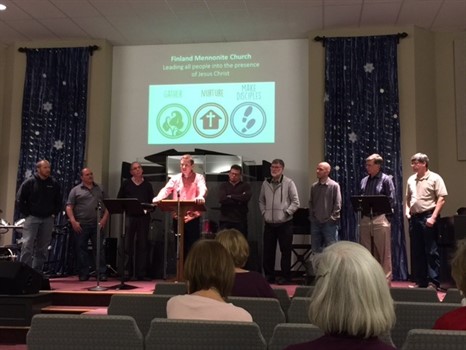 From the time you walk through the doors at Finland Mennonite Church, you will feel the relaxed, and friendly atmosphere. You will enjoy meeting real people and having meaningful relationships in a relaxed no pressure environment. People at Finland are more concerned about the person than the way they dress. So whether you prefer casual or dressy, you will be welcome just the way you are.
We are a diverse people who value and respect that diversity. One thing we have in common is that the Gospel of Jesus Christ is central to our lives. It is the affect of that Gospel on our lives that draws us together for energetic worship. It teaches us to care for those in need. It compels us to meet people where they are in their faith journey without judgment. The Gospel of Christ teaches us to reach out and love those who are hurting and lonely. We are a group of regular people, living in the real world with Jesus leading the way.
God has gifted us with talented and dedicated Worship Leaders. The unique blend of songs, instruments and voices will energize and lift you up. We believe that music is a great way to grow closer to the Lord and be spiritually renewed. Come and join us as we worship our Creator.
We invite you to learn more about who we are by clicking on the above headings. Take a moment to browse through these pages. We invite you to come and visit us on a Sunday morning. Our first Worship Service begins at 8:30 AM and our second Worship Service begins at 11 AM. From 9:45-10:30 AM we meet for Sunday school and from 10:30-11 AM is fellowship time.
 Click here for directions. We look forward to meeting you.