Tough Questions Sermon Series
Have any questions that hold back your faith? This sermon series "Tough Questions" is an opportunity to allow God to work in our hearts as we consider some questions that sometimes trip us up. We will be looking to the Bible for answers as we trust God to provide his assurance in these hard matters.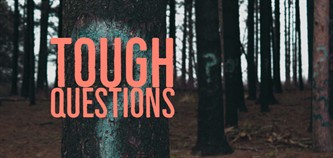 Sermon Series -
August 05 - Why do Bad Things Happen to Good People?
August 12 - What's the Bible and is it Reliable?
August 19 - Don't all Religions Lead to God?
August 26 - Why all the Denominations?
September 02 - Does Grace Nullify the Law?
September 09 - If God is Sovereign can I Really Choose?
September 16 - What if Someone Never Hears About Jesus?
September 23 - Is my Suffering the Result of Having Little Faith?
September 30 - Am I Really Supposed to Love my Enemy?
October 07 - Why Doesn't God Answer Every Prayer?
October 14 - Does God Want me to be Happy?
October 21 - How do you Help Someone Who Doesn't Want your Help, in a Microwave Culture?