The Good Shepherd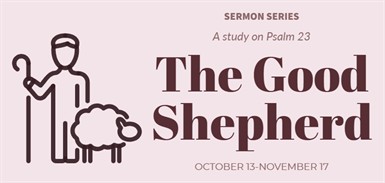 Who is your shepherd? Before we answer that, let's first define the word shepherd … A shepherd is one who protects, comforts, guides and provides.
So, using that definition… who or what do you
turn to for leadership, protection, guidance and provision? There are countless potential answers.
How to know if it's a worthwhile shepherd? Ask, what is it you leading to? …
This series covers 5 weeks breaking Psalm 23 down phrase by phrase and that's going to answer this question
but for now … think of it like this … is this shepherd leading me to
greater love, joy, peace, patience, kindness, goodness, gentleness,
faithfulness and self control regardless of the situation?
- Whether a good day, bad day, epic day, worst day ever,
day of sorrow or a day of joy … if your shepherd is worth
following, it'll lead well regardless of what's going on.
See, there are many shepherds in the world. There's many choices for us
to turn to … but only one who will faithfully and consistently lead
us to life.
Oct 13 – Who's your Shepherd? – Psalm 23:1
Oct 20 – A Shepherd that Knows Best – Psalm 23:2-3a
Oct 27 – A Shepherd that Leads – Psalm 23:3b-4a
Nov 03 – A Shepherd that Comforts – Psalm 23:4b
Nov 10 – A Shepherd that Prepares – Psalm 23:5
Nov 17 – A Shepherd that Pursues – Psalm 23:6