Planted, Not Buried
Blooming flowers. Green leaves. Sweet aromas.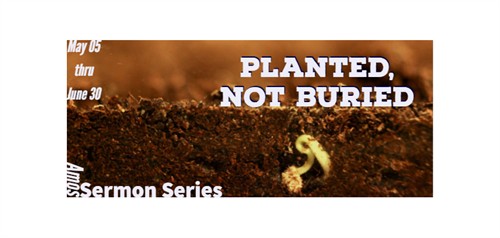 Spring is beautiful and a vivid reminder of God's goodness which can be easily swallowed up by the daily grind of life. Deadlines, doubts, diseases, death, depression … the weight of the daily grind can feel like you are being buried.
But take another look at those blooming flowers and budding trees. Smell again those sweet aromas of Spring. As you do, remember that all these things started as a seed being planted, not buried.
When life tries to bury us, let the truths of God remind you that though you feel buried, in reality you are simply being planted and that a time of blooming is coming.
This is the promise of the book of Amos and as we dwell on this truth, may you experience it powerfully in your own life.
Sermon Series -
May 05 – A Roar of Judgement – Amos 1:1—2:3
May 12 – A Call to Remember – Amos 2:4—2:16 (Mother's Day)
May 19 – A Call to Consider – Amos 3
May 26 – A Call to Return – Amos 4
June 02 – A Call for Justice – Amos 5
June 09 –  A Call for Humility – Amos 6  
June 16 – A Call to Submit – Amos 7 (Father's Day)
June 23 – The End has Come – Amos 8
June 30 – The Days are Coming – Amos 9